Cajun Day at Bayou Boeuf School
We have Cajun Day in all of the schools in Cajun country. Each school has one day they set aside to reacquaint the young children with the ways of the Cajuns in older days, through a room full of old pictures, games and show and tell. It's a way of preserving the Cajun heritage, and I was invited to go and talk about the ways I remember, and about my Cajun books. Others who were invited were doing wood carving, quilting, crocheting; others reading stories, a lady from Canada speaking French to the children, they all played the old games outdoors while Cajun music was always playing outdoors.
Today, January 26, 2007, was Cajun Day at Bayou Boeuf Elementary school.
I have to tell you it was one of my best experiences I've had in a while, except for playing with my own grandson who is now five. Interacting with school children from pre-k to 2nd grade is what I love to do most! If I would have become a teacher, this is the grade level I would have wanted to teach.
They love to listen to stories, and I enjoyed telling them all about the Cajun Fairies.
I had a great time with everyone. At lunch I met the others who were there to demonstrate. Itís what I love MOST about being Cajun. Everyone can just sit and start talking to each other ,even though youíve never met each other. At the end of the day, youíve made many more friends. I feel very blessed to be born on the bayou. There is a feeling of oneness along the bayous.
I took a photo with each class. I waited for seven classes to come in. I love to talk, but I have to tell you that I talked myself OUT today----*LOL*---but I loved every minute of it.
I want to say thank you for inviting me.
Iím blessed to know so many good people in my life!
Thanks to Mr Robichaux, the Principle
Thanks to all of the teachers.
Thanks especially to all of the students who came and listened to the tales of the Sha Bebe.
Mary Lynn Plaisance
I had the pleasure of ZZ coming to ask for the Sha Bebe Lady. *lol*! He goes to school there. His parents have Zamís Swamp Tours close to the school. I know his mom. He and his mom and dad were on a Reality TV show called Trading Spouses.
His mom, Diana went to San Diego California, and the California lady came down here to Zamís Swamp Tours, and stayed with Diego and ZZ.
Both families could not have been more OUT of their element, but this is what the show is all about. It made for a very interesting show, but Diana did much better in California than she did down here. Cajuns can make mold themselves into another element, and make friends anywhere, but we HAVE to come back home!
I did see my doll on the show when they were in the shop at Zamís!
This is one interview with them after the show aired:
Since their story aired on Trading Spouses, you could say the Loupe family business has been swamped with visitors - if you were going for a cheap laugh, that is. I hear tell one fan of the show drove all night from Minnesota to take a swamp tour and meet the family. So I am touched that the Loupe family devoted their Saturday night to answering my list of questions sent by email. Hereís what they had to say:
How did you hear about the show?
Diana: Our family is well known around the French Quarter of New Orleans from our involvement with tourism and working with filming crews; so, when Fox was in New Orleans holding auditions for Trading Spouses looking for a Cajun family, people in the Quarter kept mentioning our name to the Producers. But Fox, initially, did not follow up on the lead. It wasn't until after they were back in Hollywood and decided they had not found what they were looking for in New Orleans, that they sent a crew back to seek us out. They found us in our natural surroundings, in Kraemer at Zam's Swamp Tours, did an initial interview at our home, and shot some footage. All three of us were then flown to Hollywood about a week later for further interviews with Fox and we were notified a week later that we had been selected for the show.
Were you surprised when Jim Gates couldn't lift your suitcase?
Diana: Yes, I was surprised; but when he told me he had a bad back, then I understood; which is one of the reasons why I wanted them to have a Jacuzzi. I also thought that would be a good way for the Gates family to just relax.
You mostly stuck to the vegan diet. Did you bring home any new recipes or ideas that you liked?
Diana: Yes, Jim gave me some Vegan recipes. I will try some of them, because I do want my family to eat healthier than we have been eating; but I am not ready to throw away the meat in my freezer, just yet. The ladies at the Vegan/Animal Rights Activists meeting I attended also told me about a web site that offers vegan choices for seafood that can be used in their various dishes.
How did you find the Gates children? Did you get along with the father?
Diana: I really fell in love with Lucy and Jack; and by the end of the week, I feel I had truly bonded with Jim as well as the children.
What did you think when Barbara consulted her journal and said that ZZ must be depressed?
Diana: That's when it became evident to me that Barbara had a misconception of what my family is all about. The notion that ZZ was not carefree and laughing for one day - much less for a whole week - was absurd to me.
To ZZ, do you watch the Apprentice?
ZZ: Yes, I love Donald Trump, and I bet I look just like him when he was a little boy. I also love his hair-do...Can't you tell?
I heard a rumor that the Gates will be coming to visit for Mardi Gras. Are you still friendly with the Gates?
Diana: We spoke about Mardi Gras earlier; but I have not heard from them since the last show aired.
What about the money - are you happy with what Barbara chose? What did you think of having to spend the money on "eco" engines? Or the charities?
Diana: I have been so blessed in my life - with family, friends, making a successful business out of what we love to do, having an opportunity to be on Trading Spouses - that the money is just a small part of the experience for me. I would have been happy with whatever way she chose to spend the money on us. The tremendous amount of support and good will we have received since the show aired from people across the country, Canada, and even as far as Venezuela, Mexico, and Alaska is immeasurable in terms of money.
Did the Gates family keep the alligator heads?
Diana: Yes, they kept the heads. In fact, Diego told me that Barbara chose one from our gift shop to bring home with her before she returned to California.
Diego, was it hard to watch ZZ and Barbara interact?
Diego: ZZ is an only child; so he is mostly around adults except when he is in school. We get tourists from all around the world on a daily basis and ZZ is a big part of our family business. He is accustomed to interacting with strangers. So, I was quite comfortable with ZZ handling himself with Barbara.
So...what tastes good on alligator?
Diego: You can cook all of the meat on the alligator. There are so many different recipes that you can make something new every day. We especially like to serve alligator in a sauce piquant, sausage, jambalaya and etouffe. The tail is the prime meat and makes excellent steaks, which can be smothered down with lots of onions. Many people barbecue the ribs and legs. The most popular recipe is alligator nuggets.
What does it taste like?
Diego: It really does taste like chicken.
For ZZ, it was hard to watch you being sent back to brush your teeth over and over gain. How many times did you have to brush your teeth that night?
ZZ: Five frustrating times.
What did you think when Miss Barbara ate the alligator?
ZZ: I just knew it wasn't Vegan.
Why do you think she did it?
ZZ: Because she said the alligator was just a reptile.
You have a lot of fans on the internet, ZZ. What do you think of that?
ZZ: I think its great, and I wish I can meet them all some day. You won't believe how many have come to see us already. The only problem is "The Trumpster" hasn't written or called me, yet.
I understand the family has had brushes with the entertainment industry before.
Diana: Yes, I am listed with the Louisiana Film Commission as an authority and historian on Cajun culture. I have assisted with documentaries made for foreign crews from Japan, Russia, Germany and France - serving as an advisor on Cajun culture and cooking; and French culture in Louisiana. I've participated in photo shoots, including Marie Claire Magazine, Cosmopolitan, and Guess Jeans. My last interesting project involved wrangling an alligator up to the second floor of the Ormond Plantation house for a Neiman Marcus catalog. I have been an extra on movies filmed in the area, such as "Avenging Force" and "Skeleton Key."
My brother, Wild Bill Tregle had a featured role in "Home Movie" (do a search for "Wild Bill Tregle" on Dogpile or Google); a Martha Stewart segment; a Discovery Channel program; a couple of music videos; and the pilot for the TV series, "The Big Easy." He was, also, in a Burger King Commercial; and a Southern Comfort commercial featured on Billboards and movie screens in England.
Diego recently had a one line speaking part in Kate Hudson's upcoming movie, "Skeleton Key." It was a party scene and was filmed along the bayou and at the Zam's Swamp Tour Restaurant. We've also had alligators and snakes featured in various commercials and movies including KIA, Budweiser, Miller Lite, La. Tourism Commission - filmed in and around Zam's Swamp Tours. Our restaurant was also featured on a couple of cooking programs.
What is your daily routine with the alligators?
Diego: We house alligators in a pond behind our home - the pond originally built by ZZ's Grandpa, Edwin "Papa Gator" Tregle. The pond is 100' X 100' which, aside from the fencing, replicates their natural habitat. Since alligators are territorial, they do not need a lot of space. My routine consists of feeding them and showing them off for the tourists. Mostly, we feed them with road kill, which is abundant in this rural, swampy area. In addition we run water to aerate the pond and keep the water fresh. So, I have a pump and a well to maintain.
My biggest responsibility comes in the winter when the alligators begin to hibernate. They hibernate by digging holes and burying themselves. It's a tough job to prevent them from digging their holes on the outer edge of the pond, which might allow them to escape the fenced-in area. I have to steer them constantly to the middle of the pond - where we have built up a mound for that purpose - by covering up the outer edge holes that they have dug the previous day.
A big part of our business comes from The New Orleans Convention Center and the Louisiana Film Commission who regularly call on us to bring Alligators for filming and educating tourists. When we get a gig, I have to wrangle one of the larger alligators from the pond, tape his mouth shut and put him in the back of my pickup truck to take to the New Orleans Convention Center for display to convention goers.
Thanks to Diana, Diego and ZZ for answering my questions. I fully expect ZZ to be running an empire someday, but with better hair than the Trumpster. Thank you to Gary and Debi Tauzin, who printed out the questions and integrated them into a Saturday night family visit.
If youíre ever in that neck of the woods, (http://www.zamsswamptours.com) be sure to give them a visit - I know I will.
Alligator samples being accepted at hepcat@fansofrealitytv.com. Sauce piquant preferred.
http://www.fansofrealitytv.com/forums/archive/index.php/t-39022.html
=============================

This was my day at Bayou Boeuf Elementary School

I loved every minute of my visit.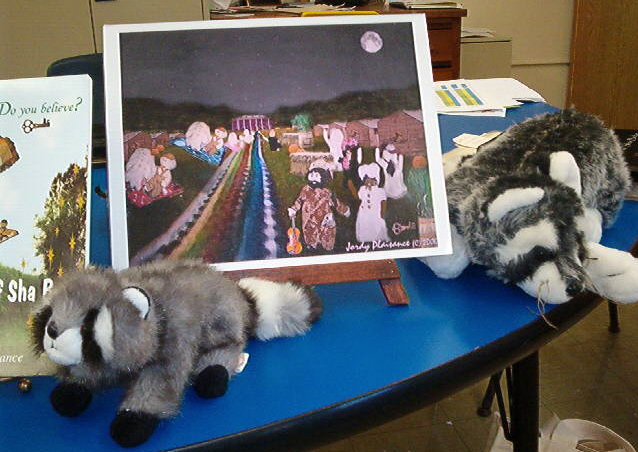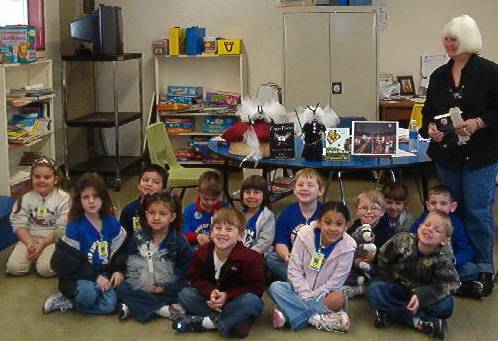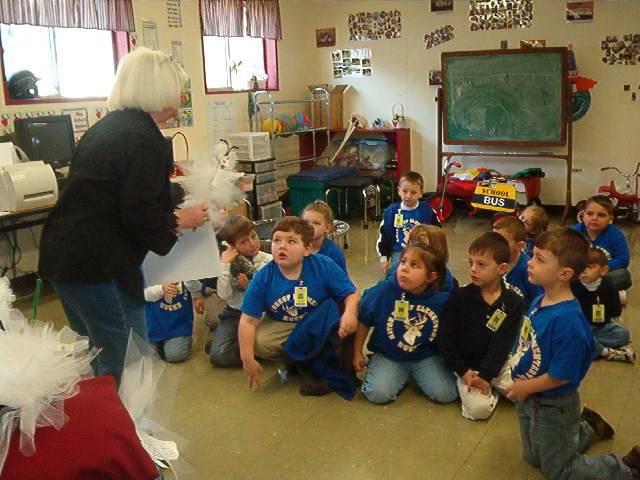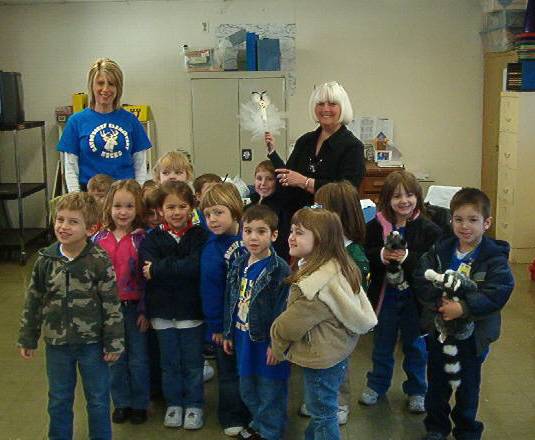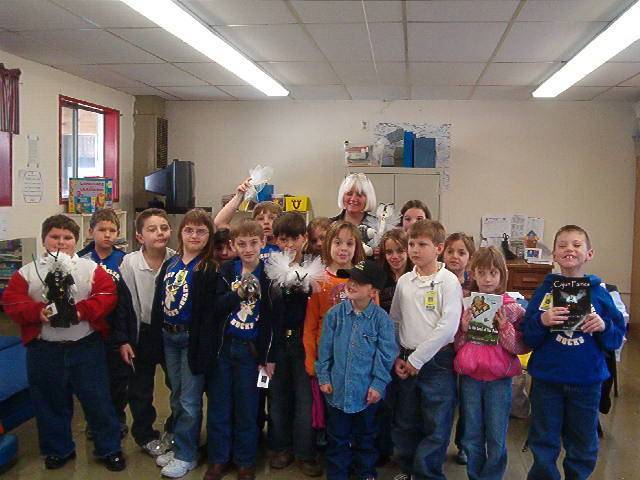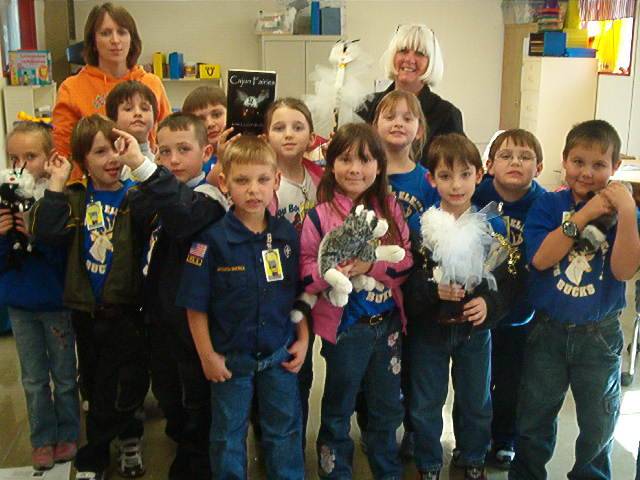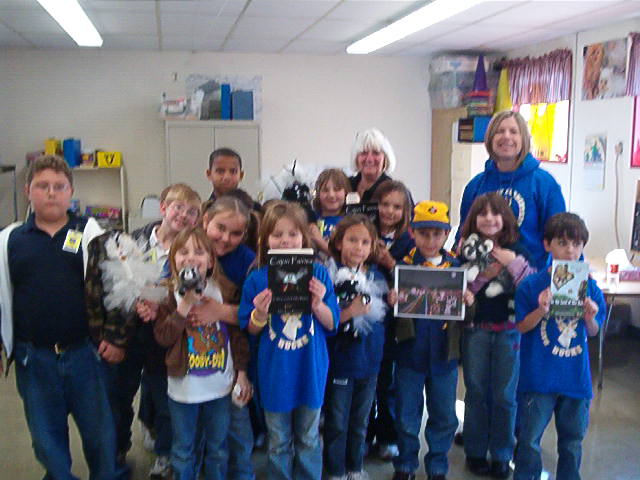 ************************
BACK TO Sha Bebe HOMEPAGE
************************