Business News from The Tri-Parish Times
: feature business of the week :
Wednesday, January 15, 2003
BEB'S PLACE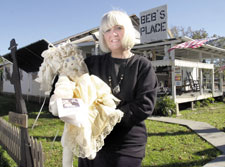 Photo by Jonathan Cohen -- Houma Courier

Mary Lynn Plaisance, the owner of BeB's Place, has been selling rag dolls in Mathews for 10 years.

______________________________

Local artist finds claim to fame close to home

by: Rusty Trosclair
Tri-Parish Times

When Mary Lynn Plaisance sewed her first baptismal dress in 1991, she had no idea a decade later that her small sewing act would turn into her own business--- Beb's Place of Mathews. "I used to sew baptismal dresses for people," Plaisance said, "and one day my husband said, "Why don't you put one on a doll?" So I made a rag doll. Ten years later, I have a BeB's Place and I am selling my own rag dolls-- the Sha Bebe Dolls."

Sha Bebe dolls are Plaisance's claim to fame. The dolls incorporate several looks, but all are handmade by Plaisance. There are the Jolies and the Beaus, are the basic boy and girl doll.

Then there are the more theme specific dolls, such as the Cajun widower named Madame Poulette, the shopkeeper Madame Plume, the schoolteacher Miss Betty Lou, Voo Doo Queen Marie Laveau, and the Sugar Mill Lady, created in memory of Plaisance's mother. The dolls stand from 8 inches to 27 inches tall.

"All of the dolls, except the Beaus are female." Plaisance said laughing. Only the collectors seem to buy the boy dolls".

BeB's Place offers much more than just Sha Bebe Dolls. Plaisance prides BeB's Place as being a business focusing on local Cajun talent in a variety of fields. She sells CD's records by local Swamp Pop artists and books written by local authors. Her husband, Teddy, sells his original wood carvings there. He also creates Clysdale horses, toy chests and doll furniture for the Sha Bebes.

Plaisance said the biggest buzz comes from the word "sha bebe" itself.

"I was explaining to people all day long what "bebe" means," Plaisance said. "It is simply a term of endearment used in the course of a conversation in the Cajun language, that means "Dear Baby". Same as the name Beb. I heard every way possible with people pronouncing it, baby, to B&B, to beebee to bay-bay."

This term of endearment is why the dolls are called "Sha Bebe," she added.

"When a Cajun looks at a cute little baby," Plaisance said, "they're going to say, "Aww, sha bebe", which means "what a pretty baby". It should be spelled "cher" . But we say Sha, so Sha stuck."

Plaisance designs all her dolls personally by hand right now. But she hopes of introducing mass production in the future.

"Right now, it's just me. But I definitely want to see this get bigger." Plaisance said. "I would love to see my dolls all over the world. Who knows how big it could get? This is probably what Xavier Roberts was thinking when he made his first Cabbage Patch Kid doll."

Sha Bebe dolls can be bought at BeB's Place in Mathews, La. or ordered online at:

http://www.shabebe.com

BeB's Place is open from 10:00 am to 5:00 pm. Plaisance can be reached at 985-532-5979.

"The purpose of these dolls is simple." Plaisance said. "They just make people feel good, and make them happy. If someone can just hug one of my Sha Bebe dolls and hppy and feel good, then I feel good."

__________________________________

Mary Lynn Plaisance
owner of BeB's Place Home of the Cajun Sha Bebe Dolls (C)

__________________________________

Today, March 30, 2005, the Chamber of Commerce put on a luncheon for Governor Kathleen Blanco. I attended and gave her a book. She's stands for everything that Louisiana IS. And she's a great Governor for our state! I had a great time meeting her!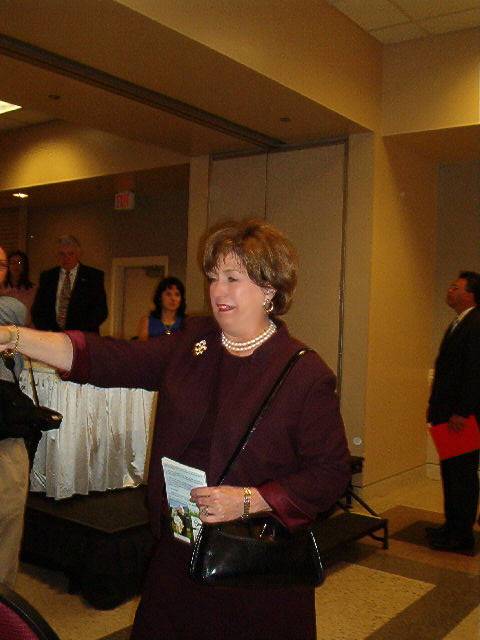 I gave her my book. It's in her hand. *smiles*
The book is on the table. She loved the idea of dolls born in the sugarcane!
GOOD PR for Louisiana~!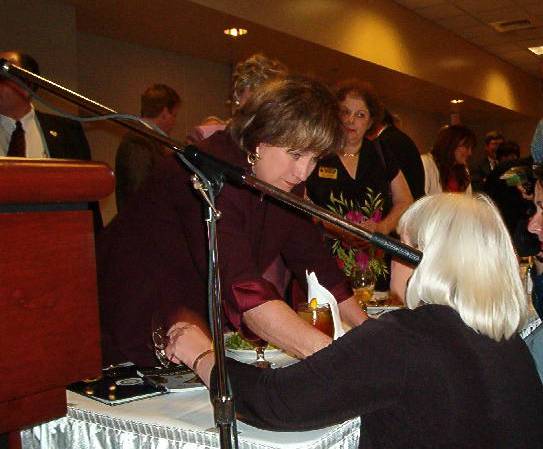 She is the most gracious lady, who loves to hunt and fish.
And she is good for Louisiana~!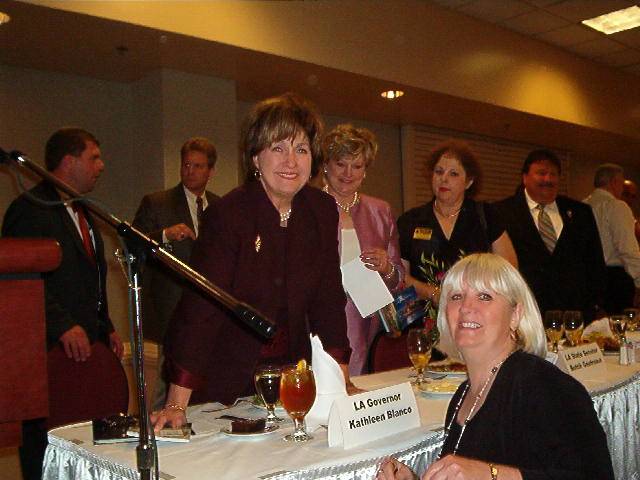 ~Governor Kathleen Blanco~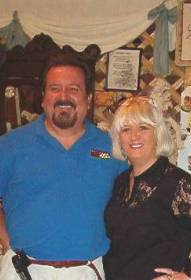 Bobby Richard from KCIL 107.5 FM Radio has a T-Bobby Doll too, as his sidkick~!
Who's YOUR Sha Bebe, HUH?